You may have read earlier on Pocket-lint how the Google Nexus One would not be getting the upgrade to Android 4.0 Ice Cream Sandwich.
And whilst some Google handset owners may complain about the lack of support, for a phone that has been around for almost 2 years, it would only leave it an "Android Orphan" for a couple of months for anyone who took a 2 year contract out when it first launched.
Android Orphan is the phrase coined by Michael Degusta, who has been tracking Android version availability across the various manufacturers involved in Google's mobile market.
And there are brands that are far less loyal to their customers than Google.
Using every Android phone shipped in the United States up to June of of last year, he found:
- 7 of the 18 Android phones never ran a current version of the OS.
- 12 of 18 only ran a current version of the OS for a matter of weeks or less.
- 10 of 18 were at least two major versions behind well within their two year contract period.
- 11 of 18 stopped getting any support updates less than a year after release.
- 13 of 18 stopped getting any support updates before they even stopped selling the device or very shortly thereafter.
- 15 of 18 don't run Gingerbread, which shipped in December 2010.
- In a few weeks, when Ice Cream Sandwich comes out, every device on here will be another major version behind.
- At least 16 of 18 will almost certainly never get Ice Cream Sandwich.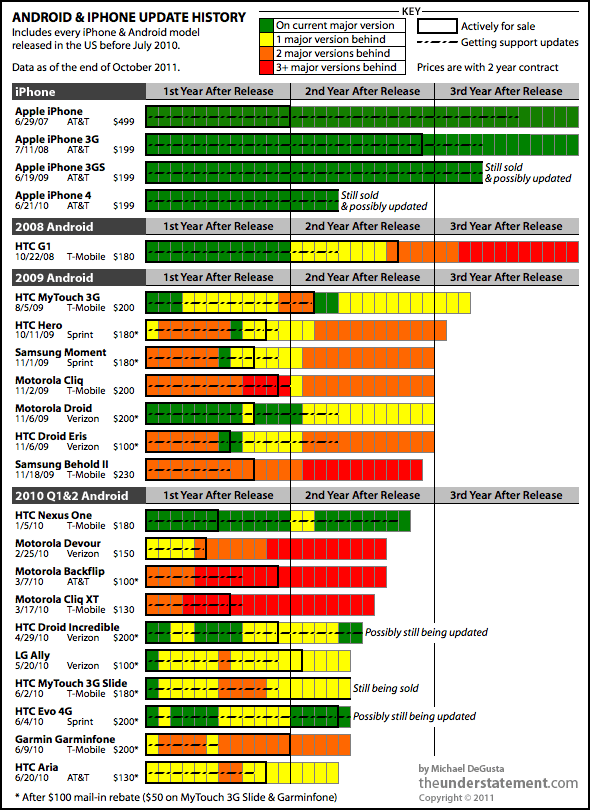 Another thing that the infographic highlights is just how rewarded Apple iPhone owners are when it comes to being able to run the latest software. In all cases the latest software has been available for more than two years on all devices.
In fact, iOS 5 which went live earlier this month is still compatible with the iPhone 3GS, a phone launched way back in the summer of 2009.
is your phone an Android orphan and still under contract? Let us know using the comments below.