What is Roku and which player is best for you?
Roku
Roku develops and manufacturers various media streamers, all targeted at different markets and intended for different uses. Every Roku player runs on the Roku OS, which is a heavily modified version of Linux. Roku OS is an open platform, so any video or music streaming service can make a Channel to run on the players.
Roku calls the services, or apps, it supports 'Channels' instead of apps, we're not entirely sure why, perhaps because it wants to replace your Freeview or Sky box, but still serve up much of the same content as you'd watch on those. There's in excess of 2000 channels available through Roku's store, although we're not sure just how many of them you'd actually want to use.
The biggest selling point of Roku players is that they're the only ones to have all the major video streaming services in one place: Netflix, Amazon Video, Now TV, BBC iPlayer, All 4, ITV Hub and Demand 5. Rival products such as Google Chromecast have the majority of those, but no Amazon and Now TV doesn't allow either Amazon or Netflix onto its players.
What features does the Roku OS offer?
All Roku players run Roku OS, which has been designed to make finding content as easy as possible. Features of Roku OS include Roku Search, which lets you search by movie title, actor or director, and it will return results based on your terms. The results will show you what you can watch for free, what you need a subscription for and what you can rent or buy.
Roku Feed will show you what films are out in the cinema, you can then set reminders so the player will let you know when those films are available to watch on Roku's channels.
You don't just have to find content through the players though, as you can open videos on Netflix and YouTube on your smartphone, and cast them across to the Roku player, in a similar fashion to Chromecast.
So, you're sold on the content and features Roku has to offer, but now there's the tricky part of deciding which player to get? Roku offers three players in the UK and five in the US, so choosing is easier said than done. Fortunately, we've rounded up all the different players to tell you about their strengths and weaknesses, helping you to ultimately decide which one can take pride of place in your home.
Roku in the UK
Roku Streaming Stick
The most affordable way to get Roku into your home in the UK is with the Streaming Stick. It does exactly what its names suggests, it's a stick and it streams. It works in a similar way to Chromecast in that it plugs directly into one of the HDMI sockets of your TV, hiding it out of view. You'll need to plug a Micro-USB cable into either the mains or into a USB socket on your TV if you have one to power it up.
Just because it's small doesn't mean it's not powerful. The Streaming Stick runs the same Roku OS as the slightly larger players in Roku's repertoire and has access to the same Channels. When we reviewed the Streaming Stick, we did find navigation could occasionally suffer from lag, but not enough to put us off using it.
Full HD 1080p is supported for content that offers it, otherwise you'll have to make do with 720p. The Streaming Stick also supports Dolby Digital Plus surround and DTS Digital Surround pass through over HDMI.
The Roku Streaming Stick also comes with a remote control and luckily it's one that doesn't rely on infrared, but on RF frequency instead. You can wave it around wherever you want and the Stick will pick it up. It's a pretty basic remote control with just a few buttons, but does have quick launch app buttons for Netflix, Google Play, Rdio and YouTube. Unfortunately it doesn't come with a headphone output like on Roku's flagship media streamer (more on that later). You can also control the Stick using a companion app for Android, iOS and Windows devices.
It's worth noting the Streaming Stick doesn't have an ethernet port but has Wi-Fi built-in. We'd recommend you have a fast, stable broadband connection to get the best possible streaming quality.
The Roku Streaming Stick is a great, affordable way to add a vast amount of content to your TV. It's easy to set up, is hidden out of view and comes with a remote control included, which is more than can be said for the Google Chromecast, one of its main competitors.
Roku 2
The Roku 2 (pictured top) has been in Roku's line-up for some time, but earlier this year the company upgraded the processor to put it on par in terms of performance with the Roku 3.
It's a relatively compact box, measuring 89.9 x 89.9 x 25.4mm and weighs around 140 grams. If you've seen a Now TV box, then you'll know what the Roku 2 looks like, since Roku makes the Now TV box for Sky.
The Roku 2 demands an extra £30 over the Streaming Stick, but you get a lot more for your money. The Roku 2 operates much faster, has built-in dual-band Wi-Fi as well as an Ethernet port for a wired, stable connection. You also get a USB port for playing back any photos, videos and music you have stored on external devices and microSD card slot to expand internal storage. This is only so you can add more Channels or store game save data rather than being able to download programmes for watching at a later date.
Yes, that's right, the Roku 2 is fast enough to handle gaming content which can be controlled using the remote control. Unfortunately the supplied remote doesn't support motion control, that's saved for the Roku 3. Also, the remote that comes with the Roku 2 relies on infrared, so make sure it's always in the line of sight.
Because the Roku 2 and Roku 3 are so similar in terms of performance and the only real difference being the supplied remote, the 2 represents great value for money at £70.
Roku 3
The Roku 3 does everything that the Roku 2 can do, it has the same processor and same access to channels. It also has a USB port, microSD card slot and Ethernet port, as well as being able to decode Dolby Digital Plus and DTS Digital Surround over HDMI.
Where the Roku 3 differs is in the supplied remote control. The remote that comes with the 3 works with RF frequencies, so you can point it anywhere and not have to worry about being able to see the player, and it also has a built-in headphone jack. This allows you to plug a pair of headphones into the remote to listen to whatever is playing on screen. The TV gets muted so you can listen quietly to yourself and not disturb anyone around, perfect for late night viewing.
The remote also supports motion control for gaming, so will make games such as driving ones much better to play.
The extra features of the Roku 3 are good and worthwhile and considering it costs £80, an extra £10 on top of the Roku 2, it still represents great value for money and the extra remote features could prove to be genuinely useful.
The US has just received four new players, so along with the US-only updated Streaming Stick, gives our cousins across the pond six players to choose from. The five new players are the Express, Express+, Premiere, Premiere+ and Ultra.
Roku in the USA
Roku Streaming Stick
Roku upgraded the US version of the Streaming Stick in April this year, giving it an improved processor which Roku says delivers more power than the Chromecast and Fire TV Stick. It was also given dual-band MIMO wireless connectivity and a clever private listening mode via the companion smartphone app.
The new Streaming Stick costs $49.99 in the US, making it more expensive than both the Express and Express+, but with the only real difference being the private listening feature, as well as a slight performance boost.
Roku Express/Express+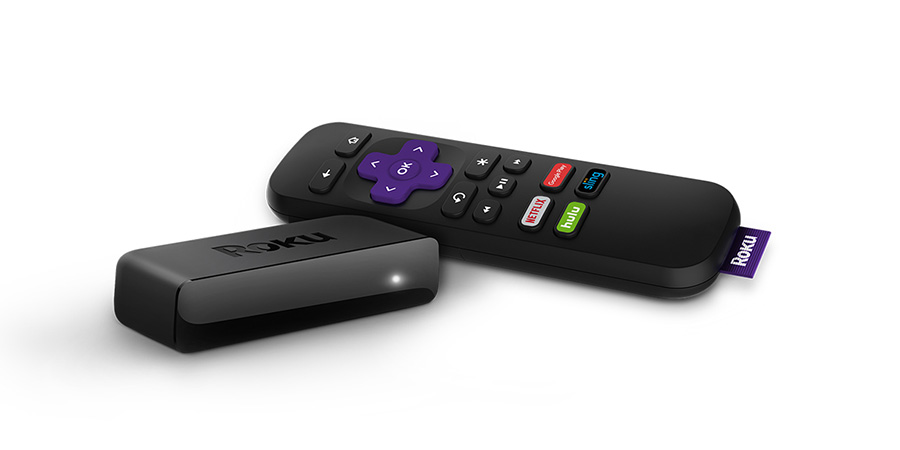 The Express and Express+ are actually smaller than the Streaming Stick, but they don't plug into an HDMI port on your TV. Instead they act as very small set-top boxes and come supplied with some tape to attach them to the underneath of your TV, with an HDMI cable connecting the two and a Micro-USB taking care of power.
The Express+ is designed with older TVs in mind because it lets you connect via a composite jack and A/V cable (red, white and yellow). The Express+ can still be plugged into HD TVs via HDMI though, and supports HDMI upscaling to 1080p.
They perform just like any other Roku player, serving up the same generous selection of channels and come with a remote control too, which some would say makes them more attractive than a Chromecast which relies on your smartphone to operate.
For $29.99 and $39.99 respectively, the Roku Express and Express+ represent one of the cheapest smart upgrades for your TV, offer the biggest selection of streaming services and decent performance to boot.
Roku Premiere/Premiere+
The Roku Premiere and Premiere+ look more like the Roku players we've already come to know and love. They're small black boxes that replace the Roku 2 and both support 4K streaming at 60fps, something the Roku 2 can't do. Both Premiere models are fitted with quad-core processors, so they should be lightning fast in operation.
The Premiere+ gets the added benefit of HDR (High Dynamic Range) functionality, so if you subscribe to the services that support it, i.e. Netflix and Amazon Video, you'll reap the full rewards. Both boxes also offer a night listening mode, which compresses the dynamic range of sound to the same level, so loud explosions for example are kept at the same volume as everything else.
The Premiere+ also receives an Ethernet port, USB port and microSD card slot, but both boxes get an optical output.
The Premiere gets an infrared remote control, the same one that comes with the Express models, while the Premiere+ gets an RF blaster so you can wave it around anywhere. It also adds a headphone jack for private listening.
The Roku Premiere and Premiere+ cost $79.99 and $99.99 respectively.
Roku Ultra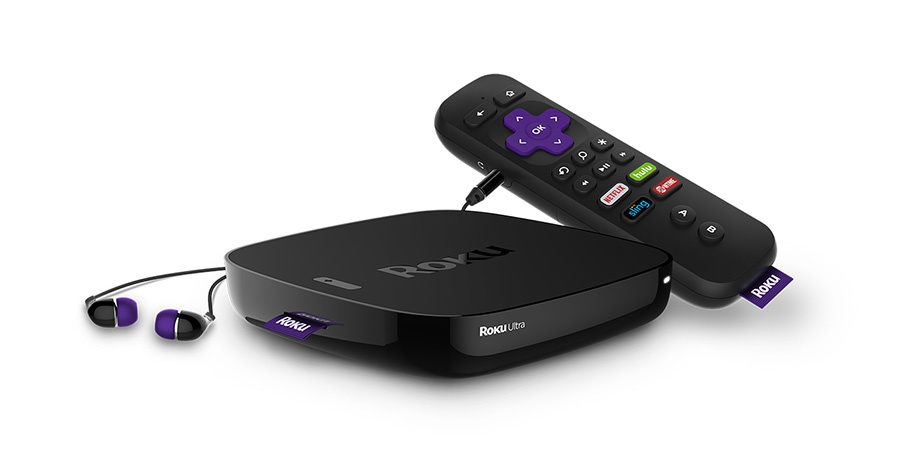 Finally, the Roku Ultra is the flagship model that has all the bells and whistles. It supports 4K HDR streaming, as well as Dolby Digital Plus over HDMI. All the other US-bound Roku players only support Dolby pass-through over HDMI.
The Ultra also has an Ethernet port, USB port and microSD card slot for playing back stored media and expanding the internal storage, as well as an optical output.
The supplied remote control has a headphone jack for private listening, but gets the added functionality of a lost remote finder. If you've lost the remote, you can press a button on the box and the remote will make a sound to help you track it down. The remote also has voice enabled search and motion control for gaming.
The flagship Roku Ultra box is available for $129.99. All models are available to buy online except the Express+ which is a Walmart exclusive.
Roku Mobile App
Roku has a mobile application for iOS and Android devices to accompany whichever streaming device you have. With it, you can access channels you already have installed, search the channel store for new ones to add and use it as a remote control. Roku has recently updated the app to version 4.0 that brings with it some new features to make finding content a lot easier.
The first change is a new navigation bar along the bottom of the screen that provides quick access to some of the most popular functions, including channels, what's on, where you'll find recommended content that other Roku users have been watching, quick launch for the remote control and access to photos which you can send to your streaming device to view on your TV.