Photokina 2014: The cameras we expect to see
Pocket-lint
Every two years the major camera manufacturers descend onto Cologne to show off their latest and greatest at Photokina. In 2014 we're expecting some major unveils in among some kit that's already been officially announced.
What will the 2014 show bring and which cameras will top your Christmas list? Here's a rundown of what we already know and what we expect to see on the show floor...
Canon
It looks to be a bumper Photokina for Canon based on various picture leaks. In addition a top-spec APS-C DSLR and a new high-end compact, some other compacts are expected to arrive, including the SX60 HS superzoom.
Canon EOS 7D MkII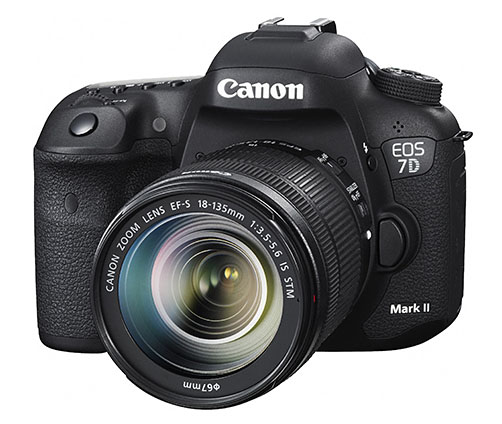 The 7D has been a staple of Canon's lineup for a number of years, so expect big things from the 7D Mark II. It's expected to arrive with a 20.2-megapixel sensor - the same as found in the 70D - and a brand new 65-point autofocus system with the same Intelligent Tracking and Recognition Auto Focus (iTR EOS) technology as seen in the top-end 1D X. Dual Digic 6 processors, a new metering sensor, weather-proofed body and all the Full HD video bells and whistles that Canon is so good at are also expected.
Canon PowerShot G7 X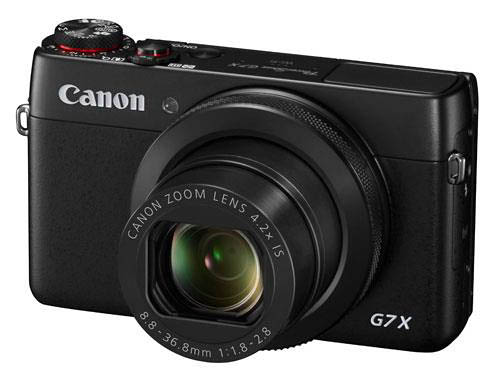 Canon is set to make its move into the 1-inch sensor compact market market, with the rumoured G7 X set to reinvigorate the G-series (currently ruled by the G16 compact). With a 20-megapixel sensor, a 24-100mm f/1.8-2.8 equivalent lens, touchscreen autofocus, and perhaps most importantly a smaller scale than many of the X-branded Canon cameras, the G7 X looks like a high-end compact to watch. Something to keep Fujifilm on its toes for sure, the company that recently announced its X30 (further down the page).
Nikon
Nikon has already lifted the lid on its biggest announcements, with the D750 being its first full-frame DSLR model to feature a tilt-angle screen. And that theme continues elsewhere: the Coolpix S6900, essentially a "selfie compact", will also feature a flip-around screen. But it's all quiet on the Nikon 1 compact system camera front, so will Photokina 2014 be used as the stage for the range's progression? We'll have to wait and find out.
Nikon D750
The Nikon full-frame DSLR lineup goes from strength to strength. If you're keen on that large sensor format, but don't want the 36-megapixel resolution of the D810 and the fixed screen of the D610 doesn't suit your needs then the D750 should appeal. It features a 24-megapixel sensor and is the first Nikon full-frame DSLR to offer a tilt-angle screen. We've had a play with the camera ahead of Photokina and, from what we've seen, it's another accomplished bit of kit. For the full lowdown take a read of our first impressions via the link below.
READ: Nikon D750 preview
Nikon Coolpix S6900
We've had a brief preview of the S6900 selfie camera upon its announcement, but will be taking a more thorough look on the show floor. The slim model comes with a 25-300mm equivalent optical zoom lens, 16-megapixel CMOS sensor and, of course, that sideways flip-out screen.
Samsung
Samsung NX1
At the beginning of September rumours surrounding the Samsung NX1 began to surface. As the "1" implies, this is expected to be the company's top spec model, akin to a DSLR replacement with bags of features on board. A 28-megapixel APS-C sensor at the core meets a weather-sealed body with 3-inch tilt-angle touchscreen LCD and built-in electronic viewfinder. There's a serious processor on board too, purportedly capable of 15fps stills shooting and even 4K video capture. Looks like the rumoured NX1 is all about Samsung making a statement in the compact system camera space. We'll be at the press conference - which is a definite, as our image above shows - to find out the full details.
Fujifilm
Fuji has already shown its hand ahead of the show, with announcements revealing the X30 and X100T compact cameras, plus a special edition version of the X-T1 compact system camera. We don't expect any untold additional surprises from the company.
Fujifilm X100T
The X100T is the biggest revelation, as the first digital camera to offer an electronic rangefinder. The camera is able to project an image onto the built-in neutral density filter so when focusing via the viewfinder two images are revealed for manual alignment. It's rather specialist - as any fixed 35mm equivalent lens, APS-C sensor, retro-style camera is going to be - but possibly the camera we're most excited to see at the show.
Fujifilm X30
The update to the X20 (which was one of our favourite compact cameras of last year) the new Fujifilm X30 is said to deliver a class-leading 2.36m-dot viewfinder that's larger, faster and higher-resolution than its predecessor's. Paired with a 28-112mm f/2.0-2.8 equivalent lens and 12-megapixel 2/3-inch sensor - the same as that in the X20 - the new X30 sounds like more of a range refresh than huge overhaul. It's all about that viewfinder update.
Fujifilm X-T1 Graphite Silver Edition
We loved the Fujifilm X-T1 when it launched earlier this year. The Graphite Silver Edition is a subtle rework of that model, offering a multi-layered paint finish that should look stunning, but also adding a 1/32,000th sec electronic shutter feature and a Classic Chrome Film Simulation mode. Seeing this camera will be all about showing it off in the pictures.
Panasonic
Phone-camera hybrid
A late addition via 43Rumors.com, it looks as though Panasonic could be about to dabble in the phone market once more with a device similar to the Samsung Galaxy Camera. That's about as much as we know right now as there are no pictures and no specification - just a lot of speculation. We're not totally convinced by this as the 2012 Panasonic Eluga smartphone was such a flop that the company withdrew from the smartphone market soon after. Perhaps this rumoured device will utilise the abandoned chassis of that in a whole new way.
Olympus
Put an ear to the ground and not many Olympus echoes have returned. We suspect Photokina will focus on compact camera prototypes and showcase the already-announced E-PL7 in addition to new marketing moves from Olympus. No big news expected here.
Olympus Pen E-PL7
The "selfie system camera" if you will. The Pen E-PL7 grows the range by featuring a screen that can flip all the way downwards for those front-facing selfie snaps. Of course that's not all it does, delivering quality performance to keep the Pen series progressing. We've already seen the camera at its announcement event. To know more read our hands-on first impressions via the link below.
READ: Olympus Pen E-PL7 preview
Sony
Rumour has it that Sony will forego revealing its next top-spec full-frame Alpha cameras until later in the calendar - potentially to coincide with the Consumer Electronics Show 2015 - and instead use Photokina 2014 to showcase new glass. A variety of new E-mount lenses, including Zeiss-made top-grade optics, are expected to bolster the existing Alpha line and make it more appealing to demanding photographers.
Pentax
Last up on our long list is Pentax, where things have been a bit quiet of late. In addition to the already-announced K-S1 DSLR, there's talk of a Pentax Q2 surfacing at the show. Will it be an overhaul for the miniature scale Q-series, or will it be yet more disappointment from the tiny sensor system camera? Indeed, will it even launch at the show at all?